Topher Grace

(Eric Forman)

AGE: 22

New York City
Laura Prepon
(Donna Pinciotti)
AGE: 21
Watchung, New Jersey
Ashton Kutcher
(Michael Kelso)
AGE: 23
Homestead, Iowa

Danny Masterson
(Steven Hyde)
AGE: 25
New York

Mila Kunis
(Jackie Burkhard)
AGE:18
Russia

Wilmer Valderama
(Fez)
AGE: 22
Venezuela
>Welcome to The Hub!<
This is where you can find instant info on
That '70s Show
, America's favorite flash-back sitcom! Loads of time has been taken to ensure this site is a fun visit for you, aswell as providing newbies to the show some facts, info and news to learn what you want to know about the show! May I recommend the
the official site
for the lastest episode info and tons of photos of the gang!

You can also email me using the feedback button just to the right telling me what you think to the site, any suggestions, info or errors in the page... not commonly though so, but I do make mistakes ;).

There are links all over the site, many of which are hidden in remote places... look for them all to find out info on the cast and crew with some suprises!!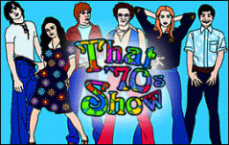 That 70's Show Webring
That 70's Show Webring is owned by RedEdsion.

[Prev][Next] [Random] [List Sites]

View My Guestbook!
Sign My Guestbook!






Where does all that smoke come from in that basement, man? I have yet to see asingle cigarette on the show. I'll bet it's Tommy Chong's dogfood burning....












Guestbook
Forum
Links
Chatroom!
Episode Guide